Solstice 2019
Join La Boheme for the 2019 Annual Santa Barbara Solstice Parade and Festival. ALL are welcome! NO EXPERIENCE necessary!
La Boheme is always one of the premiere entries in the parade, and this year will be no exception, as we are creating a fabulous SURPRISE interpretation of the fabulous Solstice theme this year: "Wonder" ... Once again, we are excited to have high energy music from DJ Darla Bea, a spectacular float, and possibly various surprise performers from the community, and, of course, our core group of La Boheme Dancers!
And find our REGISTRATION and PAYMENT link at the bottom of page!
See this link to the Santa Barbara Solstice Festival website, for more info about the Solstice Event.
--------------
IMPORTANT DATES!
Meet & Greet: Come find out more by coming to our Thursday April 4, 2019 Meet & Greet at Viva Modern Mexican Restaurant, 1114 State Street, from 6:00-8:00pm. Here you can meet the La Boheme Board of Directors, meet other dancers, ask questions, enjoy some tasty food and drinks, REGISTER IN PERSON at our super-discounted rate, buy your discounted La Boheme special Solstice 2019 tank tops, and have FUN.
The Solstice Parade is Saturday, June 22, at noon (but as performer you will "start" much earlier).
Our first rehearsal is Thursday, April 11 at 7:30pm at Gustafson Dance Studio, 2285 Las Positas Road.
Rehearsals: In April we rehearse on Thursdays only from 7:30-9pm at Gustafson Dance studio; In May and June, we add in every Tuesday and Thursday evening. (Tuesday will again be outdoor parading practice, with time and location TBD, but Tuesdays will likely start around 6pm so that we can be outdoors before the sun sets).
Big outdoor parade rehearsal: Saturday, June 15 / 9am -1pm
All rehearsals are MANDATORY - with permission ahead of time, you are allowed to miss 2 practices - but they really should not be during the last 2 weeks, and you should definitely not miss the Saturday, June 15 rehearsal.
Registration Costs, Early Bird and other Discounts:
The entire Registration package will include all 19 mandatory rehearsals and 16-25 optional rehearsals (Wednesday and/or Friday nooners and Friday "happy hours"). Registration does NOT include the costume, or the separate $15 per person Solstice Festival fee (this goes directly to Santa Barbara Solstice Festival, and is required for every single parade participant).
Early bird price (pay in full by Meet n Greet) $370)
Regular Full Price package: $400 Between April 4th (after the Meet and Greet) through April 11th, payment is $400 -- all DUE BEFORE THE FIRST REHEARSAL - BEFORE YOU WALK ONTO THE DANCE FLOOR. No registrations accepted after the first rehearsal on April 11 (unless you are completing an Extended Payment Plan).
Extended Pay-by-Month Plan:
You'll get the early bird price of $370, but be able to make your final payment as late as May 11.
Payments as follows:
By February 11: $100 (non-refundable)
By March 11: $100
By April 11: $100
By May 11: $70
This year, we are excited to offer a "Bring-Your-Friends Discount": Take $50 off your cost for EVERY NEW DANCER you refer to La Boheme Solstice. They need to have never performed with the group before. If you bring in 7 new dancers, you can get $350 off!
Think of people you'd love to see have the transformative, joy-filled, challenging experience La Boheme Solstice offers and recruit them to join.. We love newbies and all of your friends are welcome to join us!!!
Costume considerations:
Costume Kit estimated at: $75-$125.
Teresa works hard to keep these costs as low as possible. Kits are provided at cost and the board puts in hours and miles to shop for costume pieces and prepare kits for all dancers. All dancers are also responsible for creating their costumes, by following our simple sewing/gluing/safety-pinning directions. But don't let this stop you - La Boheme even makes costume construction FUN. Can we say "costume-making-party???"
Specified foundation items, such as — bra, shorts, corset, shoes, fishnets — need to be purchased separately and will not be included in your costume Kit. Way more details will be provided later.
To ensure that costume creation is maximally enjoyable, we'll be sending out instructions and having sewing parties as early as possible. Expect the kit to be ready earlier than is has been in past years!
--------------------
Commitment:
1. To participate as a "Core Dancer" with La Boheme, you must join and pay by Thursday, April 11 (the first class/rehearsal).
2. Dancers may only miss 2 rehearsals, and you must communicate your absences with us at least 24 hours ahead of time to a La Boheme Board Member - Karen, Susie, or Malisa
3. Also MANDATORY parading rehearsal will be held on the morning of Saturday, June 15, which may be about 4-6 hours long. No one can miss this rehearsal, as this is where we combine all of our groups together and practice "parading."
4. Dancers must pay and complete paperwork for La Boheme, which includes 1) La Boheme Liability Waiver, 2) a Boheme Dancer's Agreement, and 3) Solstice Parade Registration (Links to download forms below.) -- all DUE BEFORE THE FIRST REHEARSAL - BEFORE YOU WALK IN THE DOOR. No registrations accepted after the first rehearsal on April 11 (although we are allowing people to begin the Extended Payment Plan, as outlined above, with permission from our Treasurer, and paperwork completed).
------------------
3 Ways to REGISTER and JOIN LA BOHEME for Solstice 2019
1 - ONLINE Registration Payment HERE - Register through April 4th at the discounted rate of $370, or between April 4th (after 8pm) and April 11th for $400, to be a part of the once-in-a-lifetime experience! Last day to register and join as a CORE DANCER is April 11.
Please PRINT and BRING the following 3 forms either to the APRIL 4th Meet and Greet (details above), or to the first class on April 11th. Hard copies of the paperwork will be available at both the Meet and Greet (best time to register!), or at Gustafson Dance Studio on April 11th, but please arrive early at 7:00pm - class starts AT 7:30pm -- and the paperwork may take a while. BEST BET is to turn it in at the Meet & Greet!
1. La Boheme Liability Waiver -printable PDF
2. La Boheme Dancer's Agreement - printable PDF
3. Solstice Parade Registration form (+ $15 chk payable to Summer Solstice) - printable PDF
2ND REGISTRATION OPTION - Come to the Meet & Greet on April 4th, and Register in person at the discounted rate of $370. (see Meet & Greet event details above)
3RD REGISTRATION OPTION - Come 30 minutes early to the first class on April 11th at Gustafson Dance, and register at the full price of $400. This is our least favorite option, because we'd love to have everyone register BEFORE the first class. Then we can all start rehearsal ON TIME! So, preferable register via options 1 or 2, above!
---------------------
Don't want to dance or perform in the parade? LA BOHEME IS LOOKING FOR VOLUNTEERS TO HELP ON PARADE DAY!!! Be a part of this fun and fabulous community and event, by joining La Boheme as a Parade-Day Volunteer! There are so many ways to help out! We need people to help distribute water during the parade, and to help push the float, among other jobs! You are guaranteed to have fun!!!! Email us, to find out more!
Any questions left? Email us!!!
La Boheme Solstice Parade 2018 Aerial View
Our 2018 Ensemble had over 100 participants.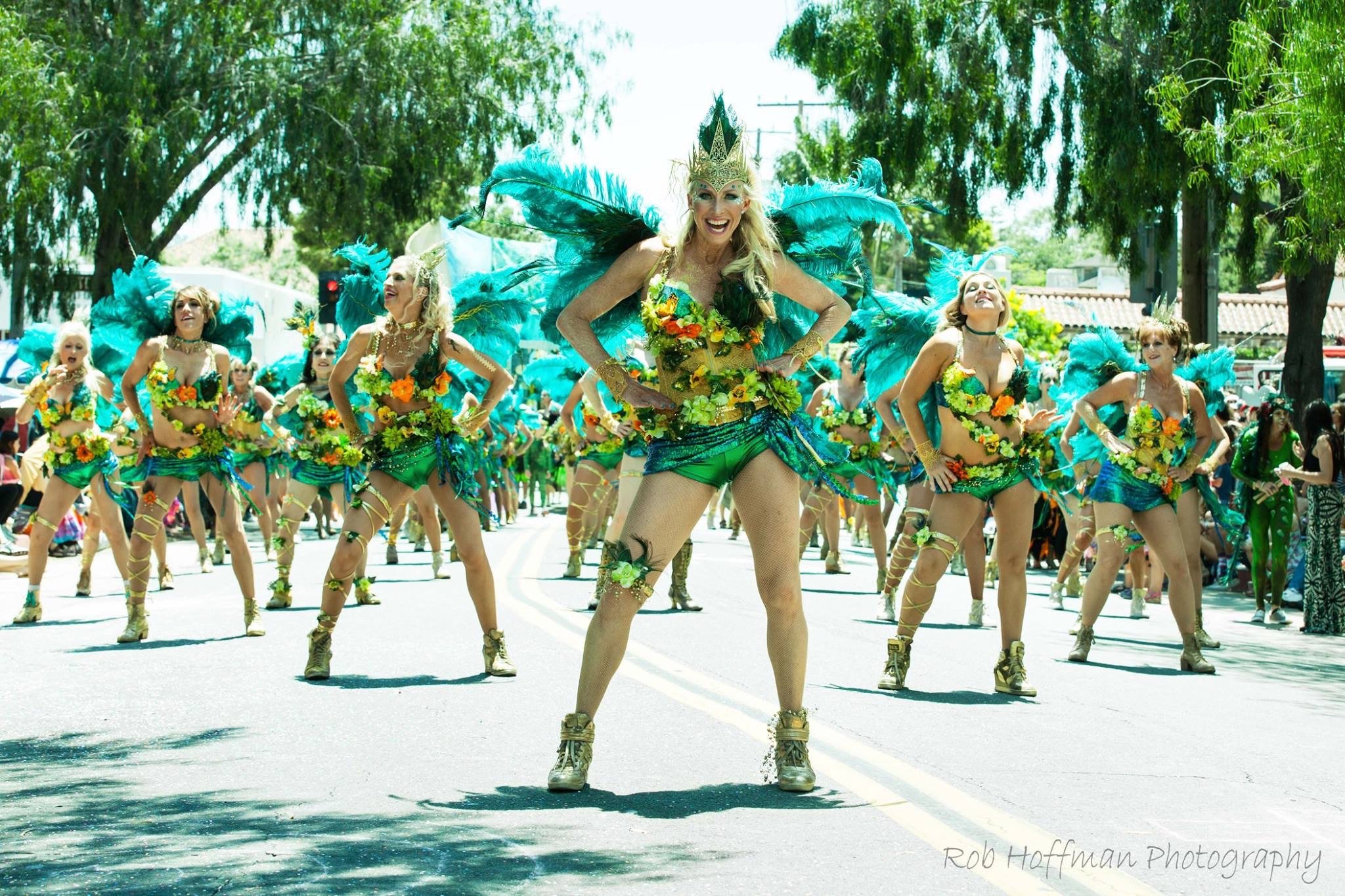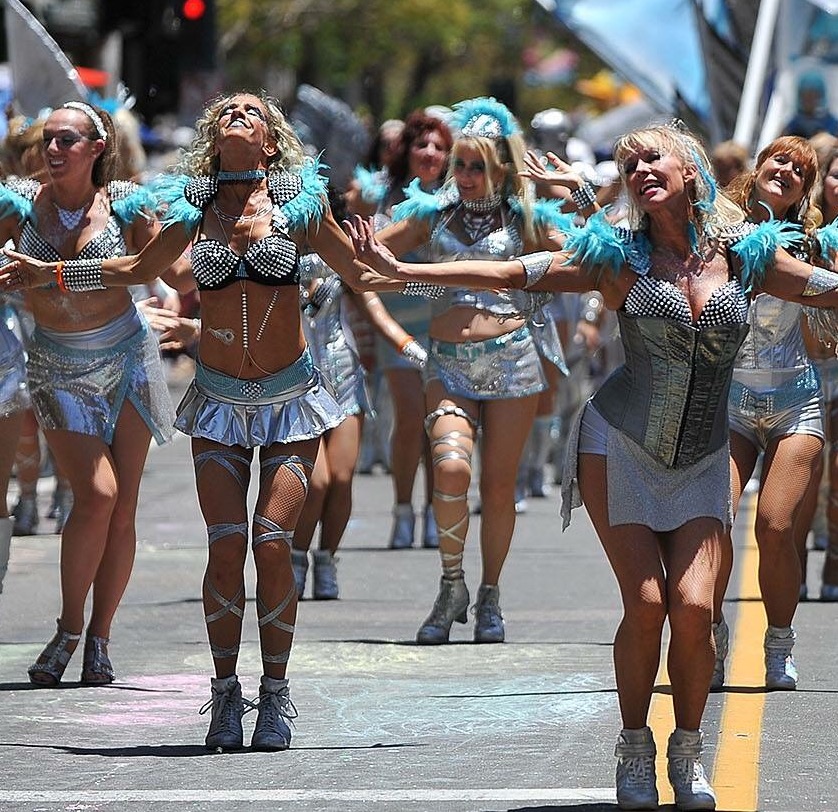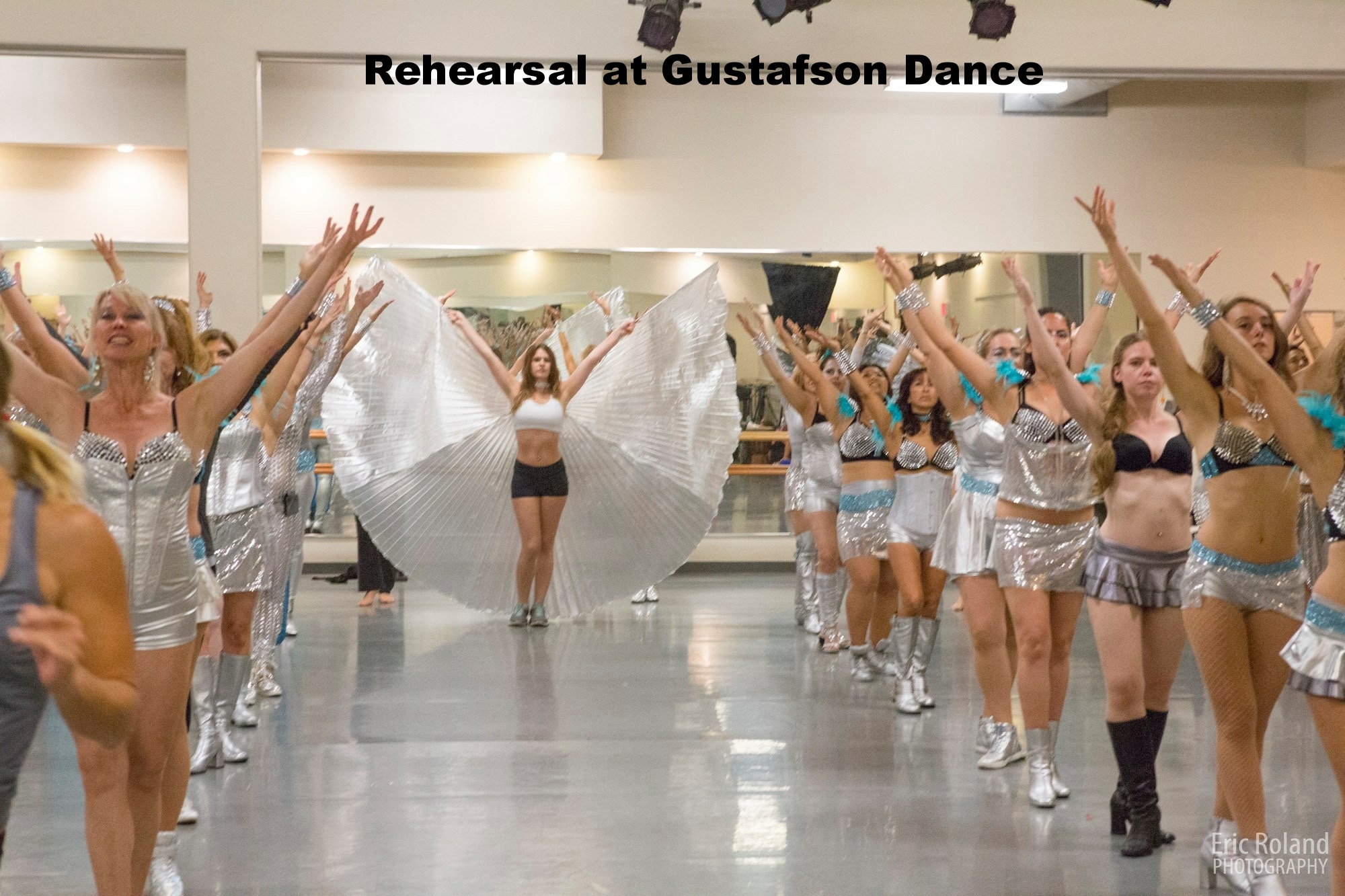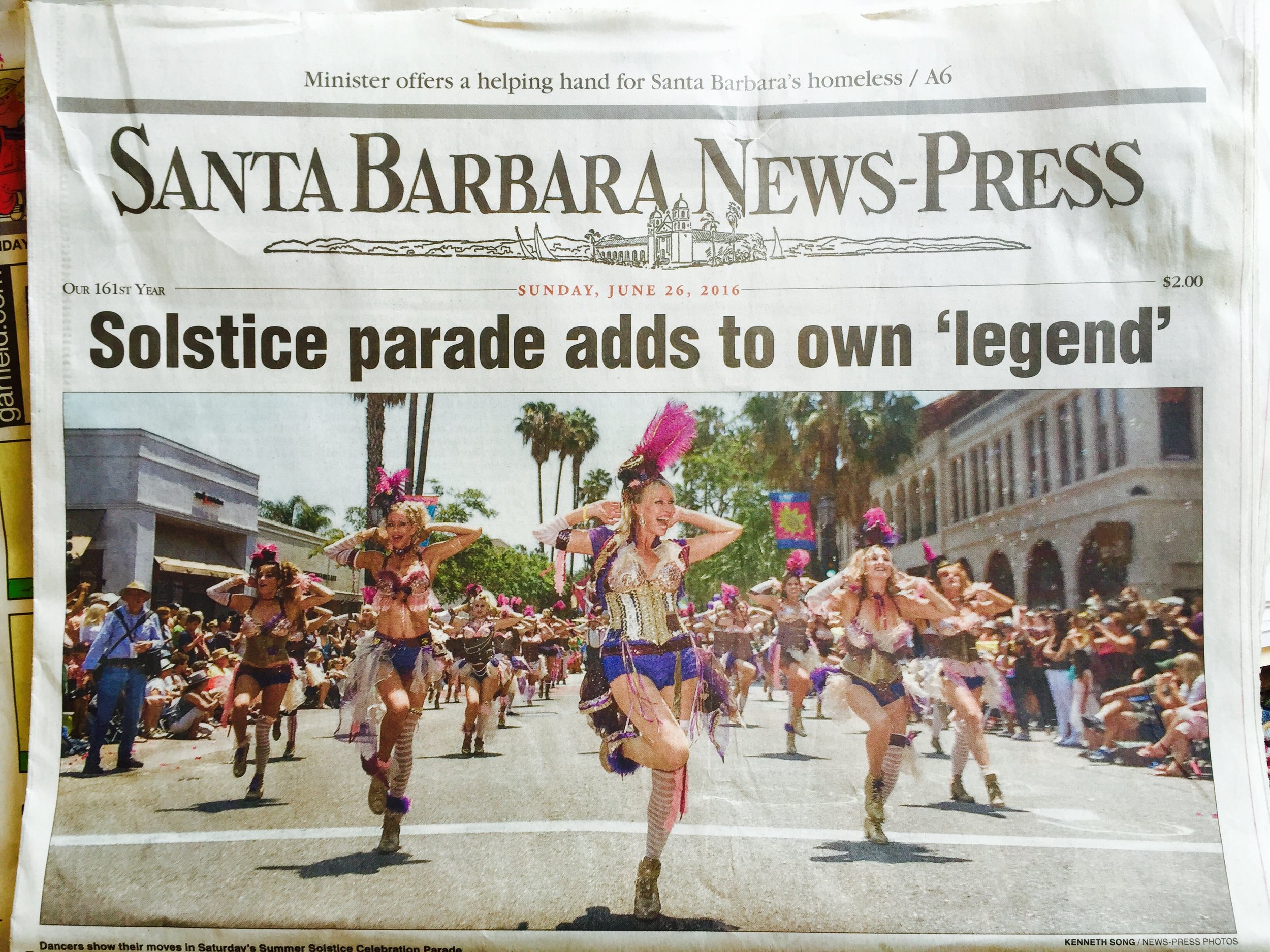 2016 Practices at Shoreline Park